Requirements
---
Newly produced and purified assembled PCBs generally have good electrical characteristics. But they deteriorate rapidly, due to the absorption of moisture, contamination of the surface with conductive particles, attracting dust particles due to static electricity, moisture condensation, etc. To protect against this kind influences printed circuit boards are, especially for complex and specific applications often provided with a protective coating, as a last step.
Conformal coatings are typically applied by dip coating and spray / splash on printed circuit boards. For prototyping and small series protective coating could also be painted.
So far, there are no high quality and reliability standards, as the inspection is carried out largely by hand. At large area tests and changing products, a review must be performed within the production cycle in order to achieve a high productivity. To optimize the process, it requires this test and inspection tools that provide not only all the information for a possible reworking available, but also can fully documented.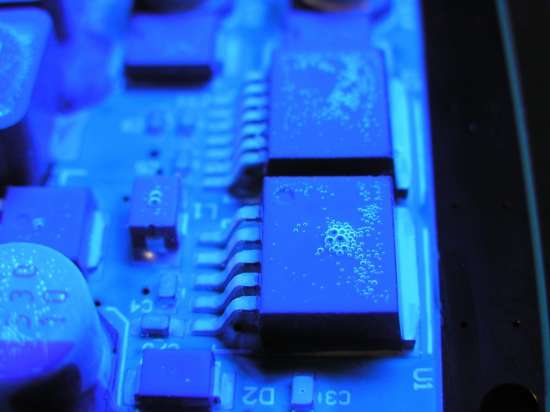 Solution
---
The automatic inspection by modusAOl ensures rapid and complete examination of all varnished modules.
The combination of multi-color LED lighting, UV-LED light and color line scan camera enables a unique varnish inspection. By the full-scale imaging of the scanning technique hundred percent detection is ensured.
Compared to manual inspection, the test results with modusAOl are not operator dependent, but always objective and reproducible. The inspection allows rapid feedback of process errors (closed-loop).
The test results are displayed to the documented repair of the assembly at the rework stations. This results in time and cost savings as well as a significant increase in quality.
modusAOl saving time, space and money.
The typical payback is between eight to twelve months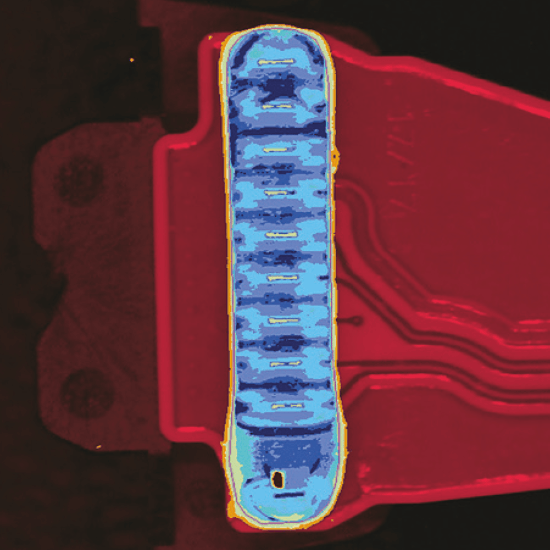 Quality through process control
---
Quality through process control

varnish zone (area)

varnish splashes (completely) up to 100pm

recognition of DMC / barcode on the verification side without additional reader
High inspection depth and large test facility

high-resolution color scanner

multi-color LED lighting

real 24-bit color, 14.040x20.400 Pixels per scan

Test range: max. 420mm * 550mm

High speed: 25mm/sec

Achromatic lens for parallax free display
Simple user interface

Indication of fault location and display of error and comparison image

Identical presentation to the test system and repair stations

Fault is easily assigned by pressing the statistics button

Training of operators within minutes
Statistics and process control

Traceability by evaluating barcode/2D-Code/RFlD

Cost savings due to fast process optimization

Intuitive test plan creation

GUI

Powerful and flexible test algorithms
Line integration

Inspection of the PCB bottom side without flip unit

Seamless integration into the manufacturing process behind the selective and wave soldering system
Double-sided inspection of varnish inside line cycle time within one unit

Flexible repair station concepts

Easy integration into the placement line

Data mapping by barcode/2D-Code/RFlD
Offline-system

Easy handling with drawer and variable PCB fixtures modus high-tech electronics GmbH