Advantage
through intelligent scan solutions
---
The latest generations of modus scanner systems offer a scan area of up to 420 mm x 530 mm. Depending on the size of the PCB, the scan takes 3 to 25 seconds. Modus systems are capable of top, bottom or double-sided inspection. This applies to all processes such as conformal coating, post placement, post reflow and post wave inspection. Even the smallest components can be inspected with our scanning resolution of 1200 dpi and a structure resolution of 21μm.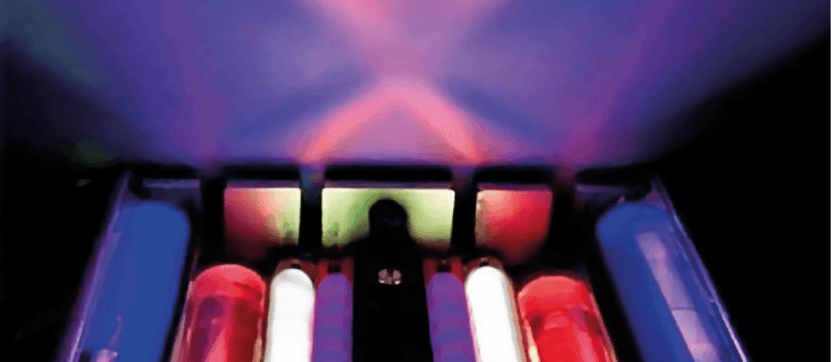 Multi-LED-illumination
---
The modus systems use several technological advancements such as a parallax-free lens and up to eight multi-LED light strips ensuring a homogeneous light.
The application of different colors under certain illumination angles ensures reliable inspection of solder joints, THT components and conformal coating on PCBs.
The modus systems use a technological breakthrough of a parallax free scanner unit with six Multi-LED light sources. The LED strips with special lenses give a homogeneous light. Whereas the application of different colors under a certain illumination angle makes it possible to have a clearer inspection and definition of the solder paste depots and solder joints.
The optional integrated UV-LED strips can enhances the images for reliable detection of conformal coating application where a fluorescing finish is used. Solder balls or other foreign objects can also be detected. The scanner searches for these potentially dangerous impurities, the latest test software on the modusAOI products detect, without any additional time all objects with a structure bigger than 100 μm.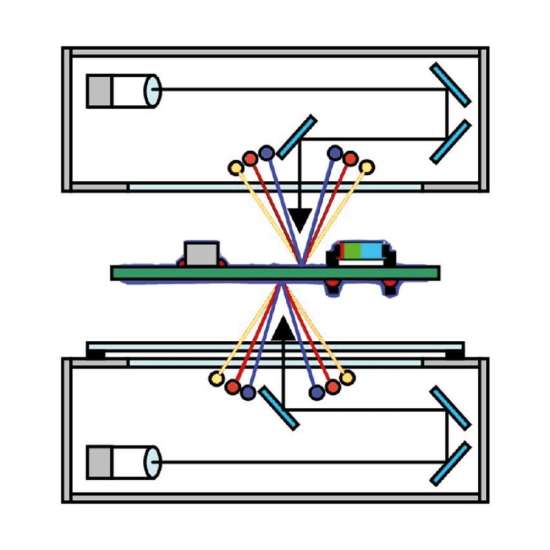 Parallax-free inspection
---
A custom designed lens produces a parallax and distortion free image. The light rays are directed straight onto the scanner CCD. This enables the operator to import Placer or Gerber files without any manual adjustment. Furthermore, tiny components which would otherwise be covered can now be tested over the whole inspection area. Defective solder joints and terminations are detected easily.
The identification of these manufacturing errors helps to increase production yields and guarantee increased quality. This legally protected technology is an innovative proprietary development and is utilized in all our scanner systems.