Process quality control
with the modus CC AOI (CCI)
---
Modus pioneered in manufacturing scanner- and camera-based conformal coating inspection systems. Since 2007 we have successfully installed a number of CC AOI systems all over the world.
Scanner technology
for conformal coating inspection
---
Modus scanner systems power a cluster of UV-LEDs in order to detect the UV trace in conformal coating. The fluorescent material enables us to not only detect the mere presence of coating, but also stray objects with an accuracy of 42μm. With an (optional) sensor we are even able to measure the thickness of the coating, thus ensuring the quality of the coating process according to IPC-A-610.

Features and benefits
---
Easy to use and create test plans

Full inline/offline solutions for top/bottom inspection in a single test cycle

Inspection according to IPC-A-610 and HDB-K630

Complete set of statistics and export data

Process control according to Smart Factory (Industry 4.0) including closed loop control

Custom designed process handling solutions

Software adaption based on customer requests

High reliability

Low maintenance cost

Easily upgradable machine features

Dynamic board handling process based on customer needs

Closed loop functionality for coating dispensers

Integration of many different MES systems, custom software adaption on request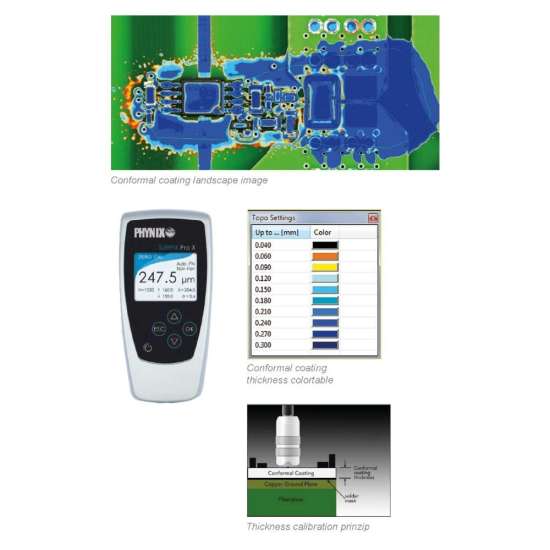 Process optimization
with modus THT AOI
---
Typical modern production processes consist of a number of single steps. For example, electronic and mechanical parts such as screws and locking devices are assembled to a module.
To receive a flawless end product and reduce the cost of quality control and ongoing maintenance, inspection is required to ensure escapes are not transferred to the next process step. AOI (Automatic Optical Inspection) allows economical control of various processes. Automatic and manual manufacturing steps are verified using various criteria. There is a demand for a flexible solutions. Modus AOI offers a complete inspection solution for a variety of requirements while providing easy to use tools for test plan creation.
AOI inline-scanner
for the selective and solder wave process
---
In the production process, integrated inspection required the development of new optical inspection systems for specific demands. The bottom systems (modusAOI MLD1200-IUA) inspect components and solder joints directly after the selective/wave soldering process. The reliable detection of open solder joints, solder bridges, missing pins as well as meniscus inspection on the bottom side, significantly reduce the failure rate.
modusAOI offers an additional advantage: the expensive turn tables are no longer necessary. Dual systems (modusAOI MLD1200-IDA) allow the simultaneous testing of the assembly from both sides.
The test data is displayed at the repair station. Your repair is well assisted and documented. This ensures quality and a stable process. In times of traceability and closed-loop, the inspection of every production process is gaining more and more significance. The barcode or data matrix code can be captured by the AOI from both sides.
The modusAOI dual systems – like all modusAOI variants - support traceability. They are available
as inline or standalone versions. They have been developed based on customer requests. ModusAOI saves time, space and money. The typical amortization is between eight and twelve months.